NUOVO LOGO E NUOVA IDENTITÀ VISIVA KICO
BRAND IDENTITY
Nell'ambito della strategia si riposizionamento del brand, KICO si è recentemente dotata di un nuovo marchio.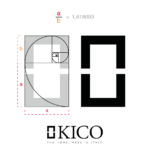 Il concept del nuovo marchio KICO Il nuovo sistema di identità è stato studiato e realizzato dall'agenzia COLUMBUS/ITALIA che lo presenta così:
"AL CENTRO DELLA NUOVA IDENTITÀ VISUALE KICO ABBIAMO POSTO UN ICONICO SIMBOLO VISIVO CHE INTENDE RAPPRESENTARE UNO SPAZIO DELIMITATO MA APERTO ALLE PERSONE. IL SIMBOLO È INSCRITTO IN UN RETTANGOLO AUREO, IN CUI I DUE LATI STANNO TRA LORO NEL RAPPORTO DEFINITO DALLA SEZIONE AUREA. CIÒ RICORDA COME KICO S'INSERISCE ALLA PERFEZIONE NELLO SPAZIO ABITATIVO E LO INTEGRA, RICERCANDO E PROPONENDO INFINITE SOLUZIONI CAPACI DI STIMOLARE LA CREATIVITÀ DI CHI LE ADOTTA, PER VALORIZZARE L'AMBIENTE E RENDERE PIÙ ACCOGLIENTI I "LUOGHI" LIVING E NOTTE."
IL SIMBOLO GRAFICO E IL LOGOTIPO
Il look and feel del nuovo marchio KICO lega l'iconicità del simbolo con un logotipo dalla tipografia elegante, creando un linguaggio di design coerente e orientato alla bellezza del "fatto in Italia":
KICO. THE HOME. MADE IN ITALY.
Anche il nuovo pay-off, "THE HOME. MADE IN ITALY." testimonia con chiarezza come la nostra attenzione sia focalizzata sulla casa e l'abitare.
Non solo una casa concepita secondo canoni estetici di bellezza e stile italiano, ma sopratutto una casa resa viva attraverso oggetti di qualità fatti per durare, grazie ad una produzione interamente realizzata nel Bel Paese.
UNA NUOVA IDENTITÀ.
Dal nostro logo, alle applicazioni stampate e digitali, ai prodotti, ai segni.
Ogni aspetto della nuova identità visiva di KICO intende garantire come tutto ciò che facciamo sia orientato alle persone, in armonia con i principi che ci ispirano.
E VOI, CHE NE PENSATE? SE VOLETE, SCRIVETECI LE VOSTRE IDEE AL RIGUARDO, ATTRAVERSO I NOSTRI CANALI SOCIAL!